A Level Results 2017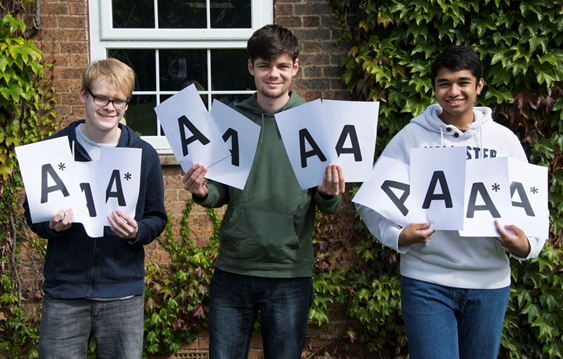 The pass rate for Hill House Upper Sixth pupils was a super 98%. An impressive 49% of exams were graded at A* to B, with 77% graded at C or above.
Star performers include Neil Srivastava who achieved a superb set of 2A*s in Mathematics and Biology, and 2As in Chemistry and French, and will study Medicine at Sheffield University. Oliver Cox, achieved A*A*A and has won a place at Warwick University to study Politics. Twins Adam and Liam Senior were thrilled with their A*AB and AAB, as was the Chair of the School Council, Thomas Neale, who gained 4 A grades.
Head Girl, Annie Barrass achieved ABB and has won a place at the University of Liverpool, while Star Fly Half, Sam Brooke, who made his debut for Doncaster Knights last week against Newcastle Falcons, worked hard to gain 3 A levels at CCD, alongside his burgeoning rugby career.
Headmaster David Holland was delighted with the successes, saying 'this reflects a lot of hard work and talent from both students and teachers. We are especially pleased that results are improving as national expectations suggest a reduction in grades, and that the great majority of our Upper Sixth are going to top universities on competitive courses.'
GCSE Results 2017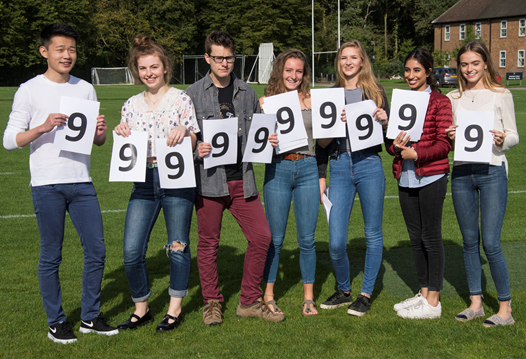 A massive 318 of the examinations taken resulted in A*/A or equivalent grades, leading to a record breaking 60% of GCSEs earning A*/A, and 98% of pupils achieved at least 5 good GCSEs including English and Mathematics.
Despite concerns over how hard the new Grade 9 would be to achieve, Hill House pupils won 22 of them, with pride of place going to Tilly Poskitt and Matthew West, who both gained a full set of 9s in English Language, English Literature, and Mathematics. Tilly adds her 9s to 6A*S and 2As, while Matthew adds his to 7A*s
Headmaster David Holland was delighted with the results, saying 'we are so proud of this group of pupils; we were thrilled to see last year's group getting past the 50% mark for A*/As, but this takes results to a new level. To see 44% of the year group get at least 8 As is also wonderful, but so is seeing every pupil achieving what they needed to move on to their Sixth Form studies. It is amazing to see that only 5 GCSEs were graded below C in the whole year group!'
Staff were especially pleased to see that their busy international sports' stars were able to reconcile their budding careers with very good grades; Doncaster and England Hockey player, Annabel Bennett gained 9 GCSEs including an A* and 2As, Great Britain Skier Jodie Grant secured 7 GCSEs including 3As and 3Bs, while GB sailor Tom Parkhurst earned 7 good passes.