Fantastic weather, beautiful locations, wonderful sites of historical and geographical interest and great students; this was a lovely trip with some surprising twists. After all, we bumped into Mrs Paver at the Pantheon in Rome and Bishoy helped to wait tables at our Italian restaurant.
Some of the highlights of the trip were the visit to Solfatara, with a wonderful guide who introduced us to the smells, sights and sounds of this sulphurous crater. Jabez tested his strength with a mighty rock, so we could hear again the sound of the crust over the lava, and the girls tried out natural mud masks. The size and scale of the town of Pompeii was amazing, we visited the theatre and the house of Octavius Quartus as well as some of the more undesirable areas of ancient Pompeii. Herculaneum allowed Rachel to have her photo taken with the famous Marcus Nonius Balbus, and everyone got a real sense of the scale of the eruption from the skeletons in the boat houses.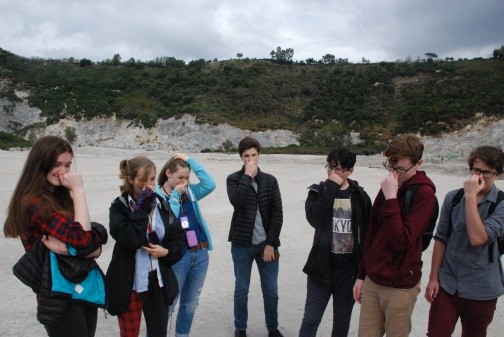 In Rome, the Colosseum and Roman Forum were impressive, and views over the city were spectacular. We all did a lot of walking and ate a lot of pizza, pasta and ice cream. We even managed to interrupt the filming on the set of an Italian movie! On the final day, we saw the enormous Baths of Caracalla and managed to swing past the Circus Maximus and still fit in time for the Vatican; all before flying home. Everyone agreed it was time to go home and rest.