Year 5 pupil Greta Highfield capped off a fantastic biathle season by storming to victory in the British Biathle Championships, following it up with a fantastic showing at the European Championships in Germany.
The British Championships, which is a continuous run-swim-run, involved swimming in the Salford Quays next to Media City. Greta's swim was the key to her victory as she used her strength to force herself to the front of the group, which ensured that she got out of the water first and transitioned swiftly into the final run.
Year 7 pupil Olivia Martin also had brilliant race, finishing in second place. Once again it was a fantastic swim which put her in an excellent position for the final run. Both girls qualified for the Great Britain squad which will go to the World Championships in Egypt in October.
Year 5 pupil William Payne finished in 10th place and improved on his performance from the previous year. William's transitioning skills have been excellent this season and a fast transition coupled with a quick run ensured he made a strong finish.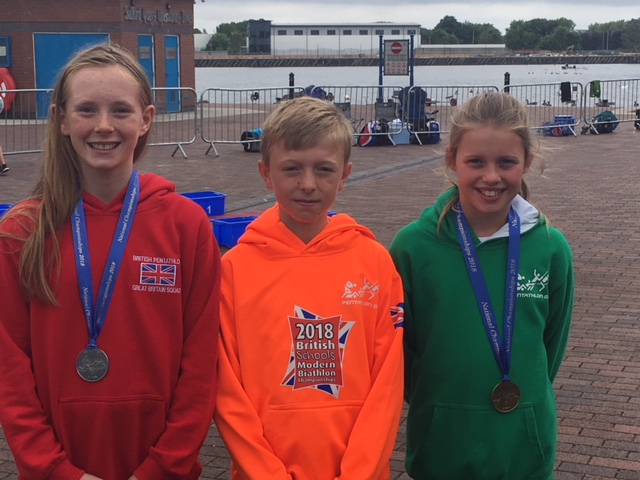 Greta and Olivia's strong performances saw them earn a place with Team GB at the European Championships which took place last weekend. Greta worked hard for her place on the podium, taking second place in the Youth E Girls. She was the first British girl home, helping the team to achieve their team gold!
Olivia was 8th in the Youth D Girls. A top ten finish is a fantastic result in what is a very competitive age group!
Mr Lawrie, who runs the school's swimming club, said, "Both girls have had a fantastic season and their sheer strength and determination during the race was clear to see. Thank you for Howard Jones from Pentathlon GB for his organisation and Gregan Clarkson from Yorkshire Biathle Club for your support in mentoring these outstanding athletes."
Well done all!