Hill House offers many opportunities for children to experience Hill House life, outside normal hours and days.
As well as our own wrap around and holiday club, we work with experienced and fully qualified partners to provide specialist activities.
Wrap Around Club
Wrap around Club operates from 7.30am to 8.00am and 5pm to 6.00pm and is staffed by qualified and experienced Play Workers. The children are given breakfast from 7.30am and a light tea from 5pm.
Hill House Holiday Club
The Hill House Holiday Club which operates during October Half term and the Christmas, Easter and Summer Holidays, for Junior school children. Staffed by members of the teaching staff, activities range from sport and craft to just enjoying all the school's facilities.
Hours : 8am to 5pm
Morning/afternoon sessions also available
Booking for the Hill House Summer Holiday Club is now open!
Please note that the following dates are now FULLY BOOKED:
Week 5
Monday 8 August
Tuesday 9 August
Wednesday 10 August
Week 6
Wednesday 17 August
For more information and details on how to book, please click below.
MT13 Summer Hockey Camp - 2 days
1-2 August, 2022
Hugely popular, fun, jam-packed with a variety of warm-up routines, skills rotations, gameplay and tactical considerations
Build on your knowledge, skills and abilities or just try out the sport for the first time
Meet new friends or catch up with old ones and learn from experienced MT13 coaches who will help you develop the next skill on your hockey journey. (Of course, they will want you to win if you play for their team!)  
Be challenged at your own level – you will be grouped by ability, not age
Early drop-off from 9am and late pick-up until 4.30pm by arrangement
Coach to player ratio 1-10
Prizes awarded to the team with the highest points as well as individual prizes based on several factors including attitude, teamwork and skill development
A goody bag for each player
PQA Doncaster
PQA Doncaster is a performing arts Academy with classes for children and young adults in Comedy & Drama (acting), Musical Theatre (singing and dancing) and Film & Television (filmmaking).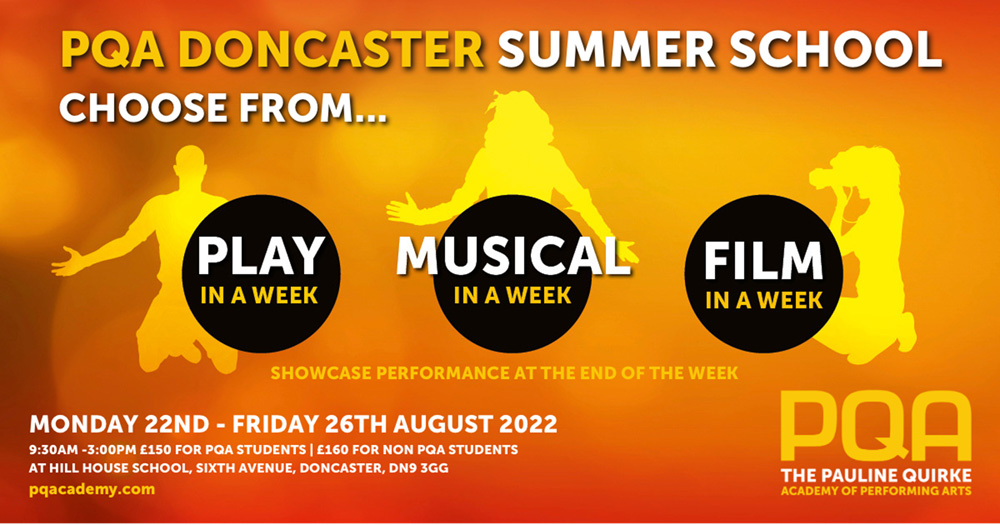 The PQA Summer School at Hill House School, children can choose between…
Play in a Week (Comedy & Drama)
Musical in a Week (Musical Theatre)
Film in a Week (Film & TV)
Monday 22nd - Friday 26th August 2022 … 9:30-15:00
Hill House School, Auckley, Doncaster, DN9 3GG.
£150 PQA Students
£160 Non PQA Students
50% deposit required by 31st July 2022.
For more information please contact Principal Thomas on 07590 537076 or Thomas.byatt@pqacademy.com